Aims and Scope
Sherif H. ElGohary, Shaimaa A. Azab, Mohamed K. Metwally, Noha S. Hassan
---
Introduction:
Detection of Diabetic Retinopathy (DR) is essential in clinical ophthalmology as it may prevent sight degradation. In this paper, a complete Photoacoustic (PA) analysis is implemented to detect DR in three different eye models representing a healthy eye as well as two abnormal eyes exhibiting Non-Proliferative Retinopathy (NPDR), and Proliferative Retinopathy (PDR)
Methods & Materials:
Monte Carlo method was used to simulate the interaction of a 0.8 ns duration laser pulse with eye tissues at 750 nm wavelength. Thermal, structural and acoustical analyses were performed using the Finite Element Method (FEM).
Results:
The results showed that there is a significant change in the amplitude of the detected PA signal for abnormal eye tissues in the retina (P < 0.05) as compared to healthy eye tissues. The maximum amplitude of the received PA signal in the NPDR and the PDR eye models is 5% and 33%, respectively, which are greater than those observed in the healthy eye.
Conclusion:
These results may provide insights into using PA imaging to detect DR.
---
April 23, 2020
Fuad G. Torizal, Ikki Horiguchi, Yasuyuki Sakai
---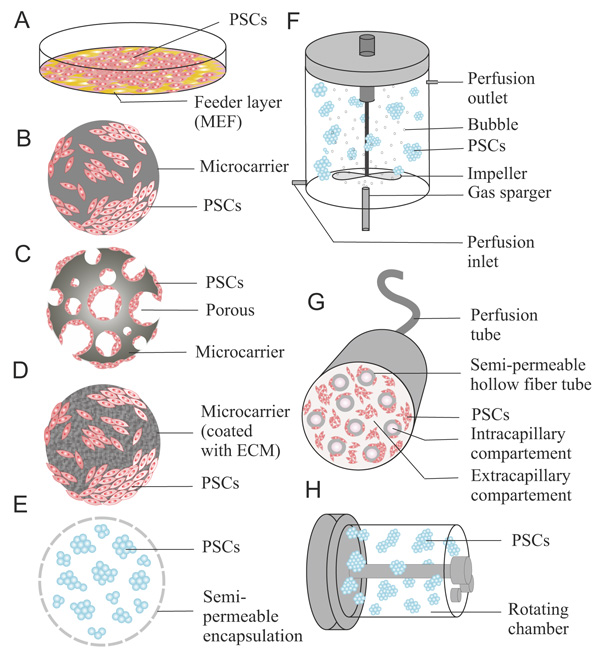 Human Pluripotent Stem Cells (PSCs) are a valuable cell type that has a wide range of biomedical applications because they can differentiate into many types of adult somatic cell. Numerous studies have examined the clinical applications of PSCs. However, several factors such as bioreactor design, mechanical stress, and the physiological environment have not been optimized. These factors can significantly alter the pluripotency and proliferation properties of the cells, which are important for the mass production of PSCs. Nutritional mass transfer and oxygen transfer must be effectively maintained to obtain a high yield. Various culture systems are currently available for optimum cell propagation by maintaining the physiological conditions necessary for cell cultivation. Each type of culture system using a different configuration with various advantages and disadvantages affecting the mechanical conditions in the bioreactor, such as shear stress. These factors make it difficult to preserve the cellular viability and pluripotency of PSCs. Additional limitations of the culture system for PSCs must also be identified and overcome to maintain the culture conditions and enable large-scale expansion and differentiation of PSCs. This review describes the different physiological conditions in the various culture systems and recent developments in culture technology for PSC expansion and differentiation.
---
February 28, 2019