RESEARCH ARTICLE
Enzymatic Detachment of Therapeutic Mesenchymal Stromal Cells Grown on Glass Carriers in a Bioreactor
Denise Salzig1

,

*
,
Alexandra Schmiermund1
,
Pablo P. Grace1
,
Christiane Elseberg1
,
Christian Weber1
,
Peter Czermak1

,

2

,

3
1
Institute of Bioprocess Engineering and Pharmaceutical Technology, University of Applied Sciences Mittelhessen, Wiesenstraße 14, 35390 Giessen, Germany
Article Information
Article History:
Received Date: 19/9/2013
Revision Received Date: 11/11/2013
Acceptance Date: 11/12/2013
Electronic publication date: 27 /12/2013
Collection year: 2013

© Salzig et al.; Licensee Bentham Open.
open-access license:
This is an open access article licensed under the terms of the Creative Commons Attribution Non-Commercial License (
http://creativecommons.org/licenses/by-nc/3.0/
) which permits unrestricted, non-commercial use, distribution and reproduction in any medium, provided the work is properly cited.
Abstract
Cell therapies require the in vitro expansion of adherent cells such as mesenchymal stromal cells (hMSCs) in bioreactor systems or other culture environments, followed by cell harvest. As hMSCs are strictly adherent cells, cell harvest requires cell detachment. The use of hMSCs for cell therapy requires GMP production in accordance with the guidelines for advanced therapeutic medical products. Therefore, several GMP-conform available proteolytic enzymes were investigated for their ability to promote hMSC detachment. An allogeneic hMSC cell line (hMSC-TERT) that is used in clinical trials in the form of alginate cell capsules was chosen as a model. This study investigated the influence of several factors on the outcome of proteolytic hMSC-TERT detachment. Therefore, hMSC-TERT detachment was analyzed in different cultivation systems (static, dynamic) and in combination with further cell processing including encapsulation. Only two of the commercially available enzymes (AccutaseTM, TrypZeanTM) that fulfill all process requirements (commercial availability, cost, GMP conditions during manufacturing and non-animal origin) are found to be generally suitable for detaching hMSC-TERT. Combining cell detachment with encapsulation demonstrated a high impact of the experimental set up on cell damage. It was preferable to reduce the temperature during detachment and limit the detachment time to a maximum of 20 minutes. Cell detachment in static systems was not comparable with detachment in dynamic systems. Detachment yields in dynamic systems were lower and cell damage was higher for the same experimental conditions. Finally, only TrypZeanTM seemed to be suitable for the detachment of hMSC-TERT from dynamic reactor systems.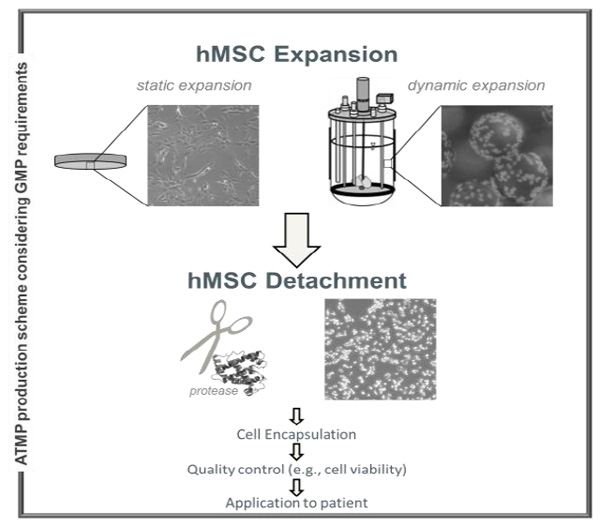 Keywords: : ATMP, bioreactor, enzymatic detachment, glass carrier, hMSC..

---
---
CONFLICT OF INTEREST
The authors declare no conflict of interest.
ACKNOWLEDGEMENTS
hMSC-TERT were kindly provided by M. Kassem, University of Southern Denmark. The authors would like to thank the Hessen State Ministry of Higher Education, Research and Arts for their financial support within the Hessen initiative for supporting scientific and economic excellence (LOEWE-Program) as well as the Federal ministry of Economics and Technology.
REFERENCES
| | |
| --- | --- |
| [1] | Hamada H, Kobune M, Nakamura K, et al. Mesenchymal stem cells (MSC) as therapeutic cytoreagents for gene therapy. Can Sci 2005; 96: 149-56. |
| [2] | Freimark D, Pino-Grace P, Pohl S, et al. Use of encapsulated stem cells to overcome the bottleneck of cell availability for cell therapy approaches. Transfusion Med Hemoth 2010; 37: 66-73. |
| [3] | Cierpka K, Elseberg CL, Niss K, Kassem M, Salzig D, Czermak P. hMSC Production in Disposable Bioreactors with Regards to GMP and PAT. Chemie Ingenieur Technik 2013; 85: 67-75. |
| [4] | Weber C, Pohl S, Poertner R, et al. Production process for stem cell-based therapeutic implants - Expansion of the production cell line and cultivation of encapsulated cells In Advances in Biochemical Engineering/Biotechnology. Berlin Springer 2010; 143-62. |
| [5] | Weber C, Pohl S, Portner R, et al. Expansion and Harvesting of hMSC-TERT. Open Biomed Eng J 2007; 1: 38-46. |
| [6] | Weber C, Pohl S, Pino P, et al. Expansion of human mesenchymal stem cells in a fixed-bed bioreactor system – Part A: Inoculation cultivation cell harvest procedures. Int J Artif Organs 2010; 33: 512-25. |
| [7] | Weber C, Pohl S, Poertner R, et al. Expansion of human mesenchymal stem cells in a fixed-bed bioreactor system – Part B: Modeling and scale up Int. J Artif Organ 2010; 33: 782-95. |
| [8] | Elseberg C L, Leber J, Salzig D, et al. Microcarrier-based expansion process for hMSCs with high vitality and undifferentiated characteristics. Int J Artif Organs 2012; 35: 93-107. |
| [9] | Merten O-W, Flickinger M C. Cell Detachment in Encyclopedia of Industrial Biotechnology: Bioprocess Bioseparation and Cell Technology. 2009; 1-22. |
| [10] | FDA FDA Proposes Barring Ceratin Cattle Material From Medical Products. As BSE Safeguard 2007. |
| [11] | Canavan H E, Cheng X, Graham D J, Ratner B D, Castner D G. Cell sheet detachment affects the extracellular matrix: A surface science study comparing thermal liftoff, enzymatic, and mechanical methods J. Biomed Mat Res Part A 2005; 75A: 1-13. |
| [12] | Wachs F-P, Couillard-Despres S, Engelhardt M, et al. High Efficacy of Clonal Growth and Expansion of Adult Neural Stem. Cells Lab Invest 2003; 83: 949-62. |
| [13] | Bajpai R, Lesperance J, Kim M, Terskikh A V. Efficient propagation of single cells accutase-dissociated human embryonic stem cells. Mol Reprod Develop 2008; 75: 818-27. |
| [14] | M Vielreicher G, Harms E, Butt U, Walter A. Obergfell Dynamic interaction between Src and C-terminal Src kinase in integrin alphaIIbbeta3-mediated signaling to the cytoskeleton. J Biol Chem 2007; 282: 33623-31. |
| [15] | Grimm I, Ullsperger SN, Zimmermann H. Nucleotides and epidermal growth factor induce parallel cytoskeletal rearrange-ments and migration in cultured adult murine neural stem cells. Acta Physiol 199: 181-9. |
| [16] | Lasfargues E, Moore D. A method for the continuous cultivation of mammary epithelium In Vitro Cell Develop. Bio Plant 1971; 7: 21-5. |
| [17] | Sjögren-Jansson E, Zetterström M, Moya K, Lindqvist J, Strehl R, Eriksson P S. Large-scale propagation of four undifferentiated human embryonic stem cell lines in a feeder-free culture system. Develop Dyn 2005; 233: 1304-14. |
| [18] | Rourou S, Ark A v d, Velden T v d, Kallel H l. Development of an Animal-Component. Free Medium for Vero Cells Culture Biotechnol Prog 2009; 25: 1752-61. |
| [19] | Wiehe J M, Kaya Z, Homann J M, et al. GMP-adapted overexpression of CXCR4 in human mesenchymal stem cells for cardiac repair. Int J Cardiol available online 2012. |
| [20] | Simonsen J L, Rosada C, Serakinci N, et al. Telomerase expression extends the proliferative life-span and maintains the osteogenic potential of human bone marrow stromal cells. Nat Biotech 2002; 20: 592-6. |
| [21] | Butler M, Ed. Animal Cell Culture and Technology - The Basics. New York:: Oxford University Press 2004. |
| [22] | Justice C, Leber J, Freimark D, Pino Grace P, Kraume M, Czermak P. Online- and offline- monitoring of stem cell expansion on microcarrier. Cytotechnolog 2011; 1-11. |
| [23] | Teichmann J, Valtink M, Gramm S, et al. Human corneal endothelial cell sheets for transplantation: Thermo-responsive cell culture carriers to meet cell-specific requirements. Acta Biomater 2013; 9: 5031-9. |
| [24] | Elseberg C, Grace P, Salzig D, Czermak P. Device and for expansion and harvest of adherent cells. EP120008166 2012. |
| [25] | Zini E, Franchini M, Guscetti F, et al. Reusch Assessment of six different collagenase-based methods to isolate feline pancreatic islets. Res Vet Sci 2009; 87: 367-72. |
| [26] | Stenn K S, Link R, Moellmann G, Madri J, Kuklinska E. Dispase, a neutral protease from Bacillus polymyxa, is a powerful fibronectinase and type IV collagenase. J Investig Dermatol 1989; 93: 287-90. |
| [27] | Harlan J M, Killen P D, Harker L A, Striker G E, Wright D G. Neutrophil-mediated Endothelial Injury. In Vitro J Clin Invest 1981; 68: 10. |
| [28] | Flickinger C M, Drew W S. Encyclopedia of bioprocess technology: Fermentation Biocatalysis and Bioseperation. John Wiley & Sons Inc 1999; 1-5. |
| [29] | Waymouth C. To disaggregate or not to disaggregate injury and cell disaggregation transient or permanent?. In Vitro Cell Develop Biol - Plant 1974; 10: 97-111. |
| [30] | Berg J M, Tymoczko J L, Stryer L. Stryer Biochemie Spektrum Akademischer. Verlag 2007. |
| [31] | Wu Z, Jiang G, Xiang D, Yang N. Wang Purification and characterization of trypsin-like enzymes from North Pacific krill. Biotechnol Lett 2008; 30: 67-72. |
| [32] | Ellerström C, Strehl R, Noaksson K, Hyllner J, Semb H. Facilitated Expansion of Human Embryonic Stem Cells by Single-Cell Enzymatic Dissociation. Stem Cells 2007; 25: 1690-6. |
| [33] | Litwin J. Standardization of Human Diploid Fibroblast Cultivation: Trypsinization Procedure. Appl Microbiol 1971; 21: 169-74. |
| [34] | J.Seidel G E, Turk M L, Gordy W, Bowen R A. 240 Recombinant bovine trypsin made in maize inactivates bovine herpes virus-1 adsorbed to the bovine zona pellucida. Reprod Fertil Develop 2006; 19: 236-6. |